Dear Colleagues,
We are looking forward to seeing you in Halifax on October 16th, 2019 for our inaugural Atlantic Canadian Mineral Processors (CMP) conference.
CMP is a division of the Canadian Institute of Mining, Metallurgy and Petroleum (CIM). Given the recent heightened interest in gold in Nova Scotia, the timing was right to re-establish the CMP's presence in the Atlantic region.
We are planning a full day of activities, including a half-day session of technical presentations, a guest speaker, a Keynote presentation, and dinner at Halifax's Lot Six Bar & Restaurant (www.lotsix.ca).
Attending the Event
Registration is currently closed/sold-out. We look forward to seeing everyone who registered.
Conference will begin at 2:00pm. For general inquiries about the event, contact Craig Hudson via email (chudson@atlanticgoldcorporation.com).
Presentations
We are excited to bring you representation from all facets of the industry, including Operators, Academics, Vendors, Engineering Consultants, which is guaranteed to provide a rich learning experience.
We are pleased to announce the following program: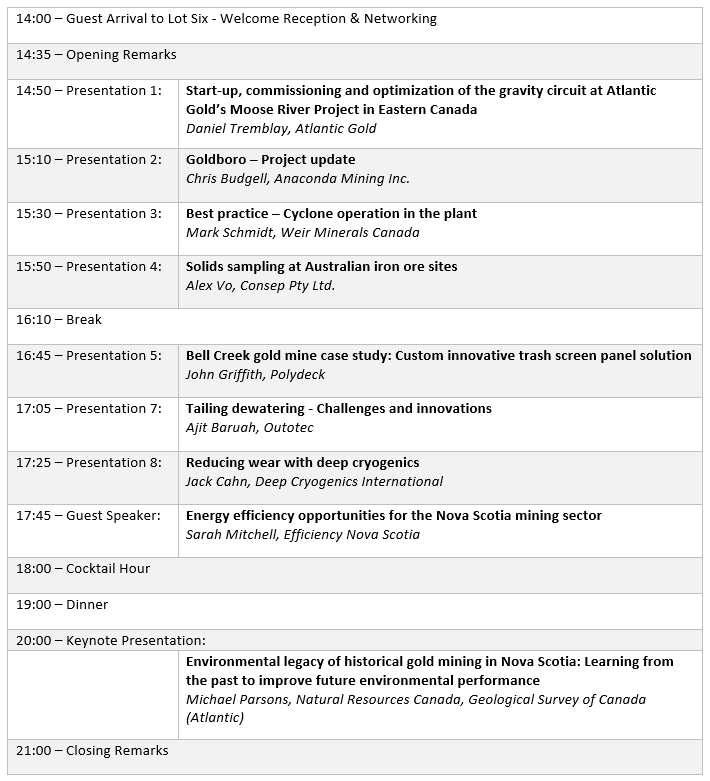 For inquiries on the technical program, contact Ziad Yamak via e-mail (Ziad.Yamak@newmont.com).
Sponsorship
The CMP is a non-profit organization and we rely on your support to ensure a successful and memorable event. Sponsorship registration is currently closed. Atlantic CMP Committee gratefully acknowledges the support of all sponsors of this event.
For any other inquiries on the sponsorship program, please contact Catherine Gagnon via e-mail (Catherine_Gagnon@quadra.ca).
Thank you in advance for your support. We look forward to seeing you at the Atlantic CMP conference on October 16th, 2019.

2019 Atlantic CMP Regional Committee
Craig Hudson, Chair, chudson@atlanticgoldcorporation.com
Murray Brown, Murray.Brown@bba.ca
Catherine Gagnon, Catherine_Gagnon@quadra.ca
Derek Lawrence, derek@heathandsherwood.com
Ziad Yamak, Ziad.Yamak@newmont.com
Atlantic CMP Committee gratefully acknowledges the support of the "Atlantic CMP Founding Sponsors":